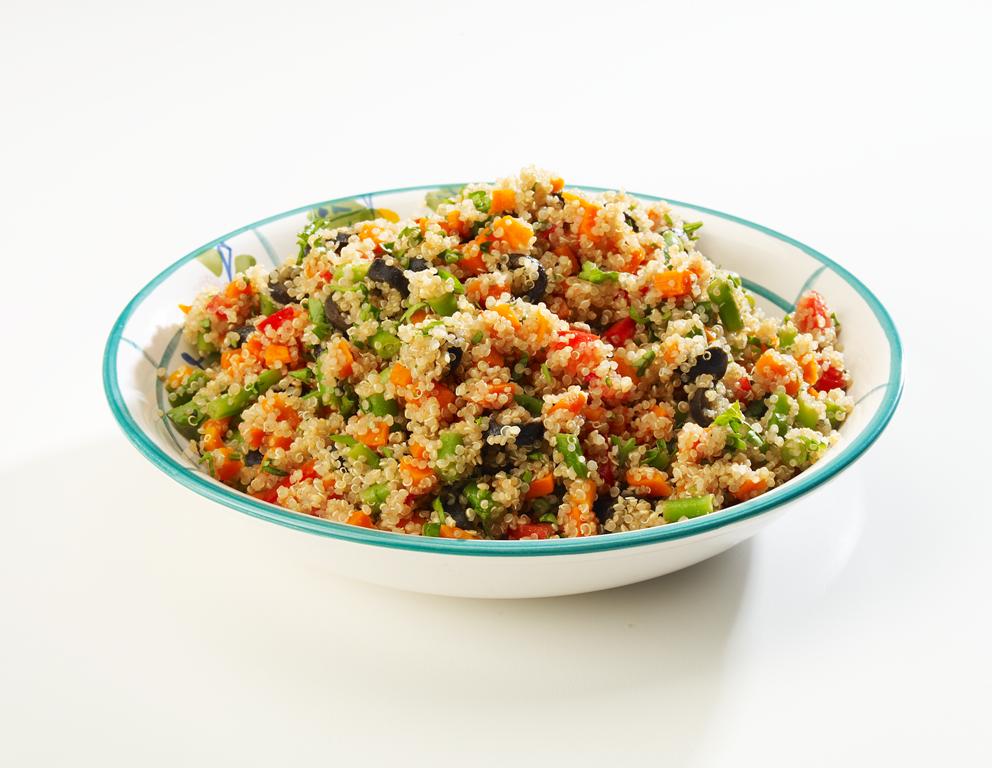 Add a healthy, unique twist to your Thanksgiving Feast next week with Mediterranean Quinoa Casserole! Quinoa is called a supergrain for a reason – containing twice as much fiber as other grains; it is also high in protein, iron, magnesium, riboflavin (B2) and manganese. While it may not be part of a traditional Thanksgiving feast, it would make an excellent dish for any family meal or gathering.
Vegetarian Mediterranean Quinoa Casserole Recipe
Makes 4 Servings
2 cups garbanzo beans, cooked
1/2 cup onions, chopped
1 cup carrots, chopped
1 cup turnips, cubed
4 cups vegetable broth
1/2 tsp sea salt
2 each garlic, minced
1/3 tsp cumin
2 tbsp extra virgin olive oil
1 cups quinoa, uncooked
6 cups swiss chard leaves, steamed
1/2 tsp black pepper
1 tbsp NutriFit Lemon Garden Salt Free Blend
Note – For each tablespoon of the Garden Herb Spice Blend, you may substitute: 1 1/2 tsp. basil, 1/2 tsp. marjoram, 1/2 tsp. black pepper, and 1/2 tsp. dill weed.
1. Drain liquid from beans, rinse thoroughly. Set aside. Rinse quinoa through a colander twice. Set aside.
2. Heat a stockpot over medium heat. Add olive oil, onions, garlic, cumin and black pepper. Cook, stirring constantly, for 2 minutes.
Add UNCOOKED quinoa and toast over medium heat, stirring, for 5 minutes, or until quinoa is browned and fragrant.
3. Add garbanzo beans, salt and stock and cover. Turn off heat and let quinoa hydrate into liquid, about 20 minutes.
4. Add swiss chard leaves, coarsely chopped, and stir until chard is wilted.