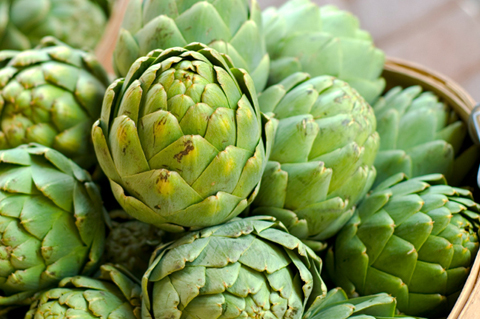 Homemade Healthy Artichoke Dip Recipe!
Why it's good for the heart: Contains garlic. This aphrodisiac plays hard to get, but the heart is worth it! Known to improve blood circulation, good for the heart, and other parts of the body!
Ingredients:
8 oz. can of Artichoke hearts, drained
8 oz. pkg. of fat free Cream Cheese
¼ Cup fat free Mayonnaise
¼ Cup fat free Parmesan Cheese, grated
½ Cup fat free Ricotta Cheese
½ Cup fat free Sour Cream
1/8 tsp. NutriFit Calypso Salt Free Spice Blend
2 Tbsp. Onion, grated
1 whole, Bread Round for presentation
Directions:
1. Preheat the oven to 350° F.
2. Drain the artichoke hearts, discarding the liquid. In the work bowl of a food processor, coarsely chop the artichoke hearts. Add the onion (if desired), process with 3 more short bursts. Add the remaining ingredients, process with short bursts just until blended, being careful not to over-process.
3. Hollow out the center of the bread, reserving the core for bread crumbs or another use. Fill center of bread with dip, and bake, uncovered, for 15 to 20 minutes, or until dip is hot.
SHARE on Facebook if you love this heart-healthy recipe!